Kings Caple Primary Will Benefit from Cheese Wrapper Recycling Project
Kings Caple Primary Academy will receive all proceeds from cheese wrappers collected by the Hereford Community Recycling and Reuse Group. The poster below shows what is acceptable to collect. Essentially you can drop off all brands of flexible cheese packaging and nets, as well as labels from Cathedral City Minis packs of 6 either at Kings Caple Primary or alternatively at the Salvation Army in Edgar Street Hereford on Friday mornings between 10am and 12 noon. Please ensure that the wrappers have been washed and that they are packed flat!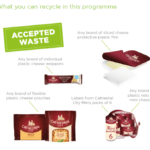 The Herefordshire Community Recycling and Reuse Group has approximately 4,000 members. Please spread the word amongst friends and family so that we can raise as much money for the school as possible and save more plastic from entering landfill. Once collected the plastic waste is shredded, washed and pelletised. The pellets can be used for a number of moulded rigid plastic products such as benches, or as a film for products such as rubbish bags.