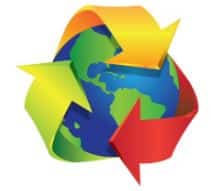 Recycling In School – New Items Added!
Please remember to keep bringing into school items for recycling.  Our re-cycling bins are just inside the playground gate and items can be placed into the bins as follows:
Red Bin – Foil and drinks cans;
Yellow Bin – Crisp packets;
Blue Bin – Batteries, cables and mobile phones
Green Bin – Spectacles and cases.
We continue to pass what we collect to the Hereford Community Recycling Group who then forward it on to charities and groups who benefit from the recycling value of the items.
Please can we remind everyone to wash their recycling items before dropping them in the bins! (Foil is accepted whether it is new or used).
We also accept recycling from the local Kings Caple community and our neighbours have been dropping in with their items on a regular basis – thank you!