Class 1 News: Grace Darling, Repeated Addition and Positional Language
We have been busy exploring more books and stories associated with our water topic.  As part of our writing we have been studying the story of Grace Darling and her heroic rescue of people from the sea in a real life story of a ship hitting rocks off shore.  The children have enjoyed doing some drama and then using this to inform their writing.
In maths, Year 1 have been working on their multiplication in number and using arrays to find and see how repeated addition links to multiplication.   Reception have been busy counting in a variety of situations and have now moved onto using positional language.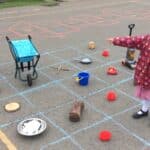 In art we have created 3d moving fish and some lovely jelly fish with 'jingly jangly tentacles'.